With each passing year, Libby grows into an even better and brighter librarian, and 2021 was no exception. From existing feature enhancements to new ways to discover more content, there are so many exciting changes that launched in the Libby app this year. Here are some of our favorites:
Databases & Streaming Media Services
Libraries are so much more than just a building full of books. And now, with the introduction of Databases and Streaming Media services, Libby's digital space reflects that, too. In addition to finding a great collection of ebooks, audiobooks, and magazines, libraries can now provide access to streaming movies, on-demand classes, and more — all within the Libby app. Database and Streaming Media services offered from your library may include:
ArtistWorks: World-class instruction for the most popular string and band instruments through self-paced video lessons from professional musicians.
Craftsy: An online resource for all creative makers from basic instruction to advanced techniques for fabric and yarn crafts, baking, drawing, and much more.
The Great Courses: Engaging and understandable lectures by esteemed professors, professionals, and experts in topics ranging from history, better living, science, language learning, and more.
iNDIEFLIX: A streaming movie service of pop culture favorites, box office hits, award-winning feature films, documentaries, and shorts.
Kanopy: A streaming movie service with films that entertain, educate, and inspire.
Learn It Live: Live and on-demand classes, quick tip videos, and programs for wellness and personal development.
Method Learning: Lessons and resources that help students prepare for the SAT and ACT.
Qello: The world's largest collection of full-length concerts and music documentaries.
Universal Class: Lifelong learning courses in over 30 subject areas, many of which offer continuing education units (CEUs).
LawDepot: High-quality, easy-to-use and completely customizable legal documents and templates.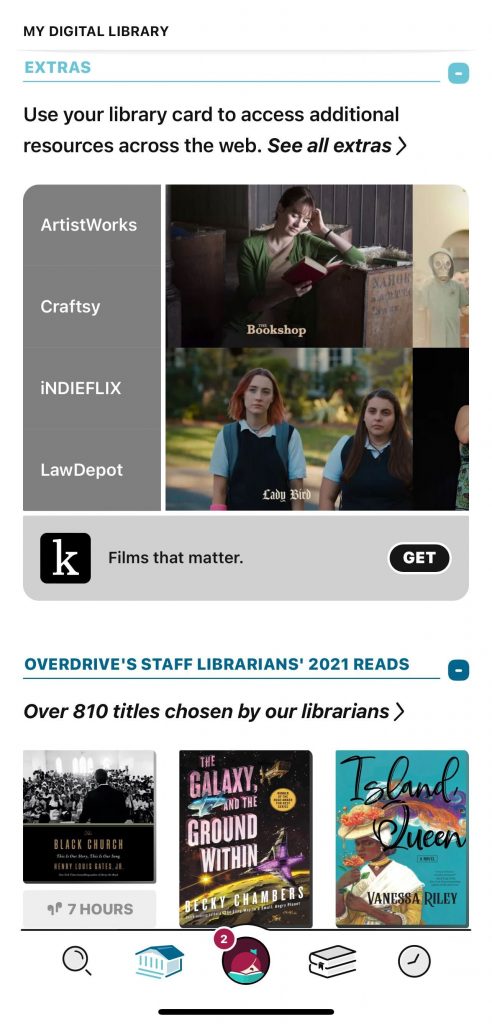 Easier Magazine Navigation
Last year, we launched Libby's article view which allows magazine readers to view articles in a menu with customized appearance settings and a scroll-controlled interface. This year, we improved the article view even more by allowing readers to remain in the article view while navigating throughout the issue.
In the upper left-hand corner of the article view, you can page forward or backward using the directional hands or tap the icon in the center to jump to a specific article in the table of contents, without ever returning to the traditional magazine view.
Smart Tags
Libby's tagging feature got a little more intelligent this year when we released Smart Tags, which give four new tags special abilities to make organizing lists, reading your favorite magazines, and transitioning from the OverDrive app even easier. Libby's Smart Tags include:
Borrowed: (icon) This tag automatically tags titles you borrow, making it a blessing to readers that tediously track their reading progress. And because tags display in search results and lists, it is also lessens the likelihood that you'll start reading or listening to a book that you forgot that you had already read.
Sampled: (icon) This tag automatically tags any titles you sample.
Notify Me: (icon) The Notify Me tag keeps magazine readers up to date by alerting you of when new issues of your favorite magazines are added to the library's digital collection.
OverDrive Wish List: (icon) This Smart Tag is essential for anyone that is making the switch from the original OverDrive app to the Libby app. It will sync with your wish list from the OverDrive app or your library's OverDrive website into Libby so that you don't have to start your wish list from scratch.
Multi-library searching
Readers with multiple library cards now have an even simpler way to compare the availability of titles between libraries. Multi-library searching is a great way to find which of your libraries has the shortest holds list, getting your most anticipated reads to you even faster.
To search across multiple libraries, tap the library card icon next to a title in your tags, a list, or search results. From there, you will see the availability of the title next to each of your libraries at the bottom of the menu.